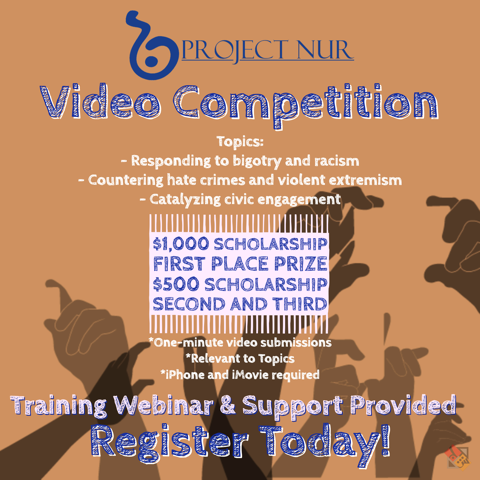 $1,000 Scholarship Opportunity for College Students who are interested in Social Justice
The Fall Video Competition
We are excited to inform you about the revitalization of our Fall video competition. Participants will have access to training videos, as well as technical advice on how to make the video!
The themes that we would like you to incorporate into your (45-120 second) video are:
– RESPONDING TO BIGOTRY AND RACISM
– COUNTERING HATE CRIMES AND VIOLENT EXTREMISM
– CATALYZING CIVIC ENGAGEMENT
You will be competing with your fellow Project Nur members on your campus, and college students across the country. We will decide 10 finalists after the submission of video concept proposals. There will be ultimately three winners:
1st place: $1,000 scholarship
2nd place: $500 scholarship
3rd place: $500 scholarship
The chapters that winners are affiliated with will receive a small grant to host an event on their campus that engages both the local community and the student body on the MANARA issues areas as mentioned above, with a target of 250 attendees per event.
⇒

Training videos plus technical advice will be available throughout the competition timeframe!
⇒

It is now for all college students across the USA. Please feel free to share with your colleagues!
⇒

December 2, 2018 (by 11:59 pm EST): Completed video submitted to YouTube. (Instructions are provided in the link below.)
HOW TO ENTER:
1.  Submit the registration form below.
2.  download the contest guidelines and follow the instructions for uploading your video.